Prenuptial Agreement Lawyers
"The firm packages most of its legal services with an all-inclusive fixed fee that is affordable for all."
The Straits Times
PKWA Law has a team of skilled divorce lawyers with extensive experience in prenuptial agreements.  We are equipped to guide you through the process, ensuring that your rights and interests are protected.
One of the key advantages of working with our firm is that we offer fixed and affordable fees for our prenuptial agreement services. This means that you can budget for the cost of the agreement with confidence, without worrying about unexpected expenses.
Our fees are fixed, clear and transparent.  Our fees start from just $2,990 for a prenuptial agreement.
If you are considering a prenuptial agreement, we encourage you to reach out to us to discuss your options. Our team is ready to assist you and answer any questions you may have.
PKWA family lawyers are consistently named as leading Singapore lawyers by the Straits Times, Benchmark Litigation, Asian Legal Business, Singapore Business Review and Doyle's Guide. Our firm has more than 100 employees and 30 years of history. Our clients include all the major banks such as DBS, UOB, OCBC and Maybank.  We are a safe and trusted choice.
How a prenuptial agreement can help you
A prenuptial agreement is a legal contract that is entered into by a couple before they get married. The purpose of a prenuptial agreement is to outline the financial arrangements and responsibilities of each spouse in the event of a divorce or the death of one spouse.  
Examples of issues agreed upon with a prenuptial agreement
You could determine the specific percentages of property each spouse would receive in the event of a divorce. Such an agreement could be used, for instance, where one party comes into the marriage with a property while the other has no property.
Division of assets. One party may enter the marriage with debts, and the other party uses their assets to pay the debt. This could be reflected in the division of assets in the event of a divorce.
If a couple have children when they enter the marriage, they may wish the agreement to acknowledge that some assets should not be transferred to the other party but be retained for their children.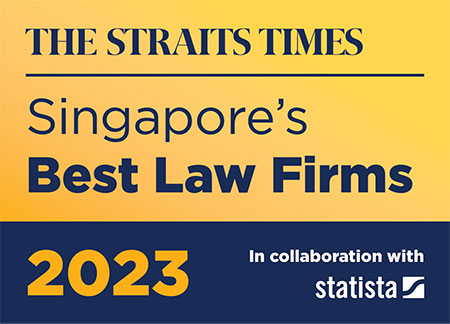 Fixed, clear & transparent fees
Prenuptial Agreement
We are here to help
Please get in touch to discuss your situation.
PKWA Law has over 30 years of history, and with more than 100 employees. We are an established family law firm.
Our fees are fixed and affordable from the outset so that you can have peace of mind.
Excellent reviews and testimonials from numerous clients across numerous independent platforms.
Our lawyers are recognized as leading family lawyers by the Straits Times, and other leading publications.
PKWA Law is trusted by leading corporations such as DBS, OCBC, UOB, Maybank, HSBC, Citibank, and CPF Board.
Free first consultation so you can make an informed decision on whether to proceed with your family law matter.
Featured news
Award winning Law Firm
PKWA Law named as one of Singapore's Best Family Law Firms in the Straits Times annual survey 2023
Meet some of our prenuptial agreements lawyers
Our awards and accolades