Award Winning Divorce Lawyers
"Hailed as a leading specialist for family and divorce law in Singapore."
The Straits Times
"A leading specialist for family and divorce law in Singapore. The firm packages most of its legal services with an all-inclusive fee that is affordable for all." – The Straits Times
Ranked as a leading divorce law firm
PKWA Law provides top-quality divorce services at reasonable legal fees starting from $1,290. We have one of the largest teams of experienced and dedicated divorce lawyers in Singapore. Our team of family lawyers are consistently named as leading Singapore divorce lawyers by the Straits Times, Benchmark Litigation, Asian Legal Business, Singapore Business Review and Doyle's Guide.
Affordable fixed fees
Whether your divorce is contested or uncontested, our fees are fixed, clear and transparent from the outset.  Our divorce fees start from just $1,290.
Court of Appeal wins
Our focus is to settle a divorce matter amicably, and we successfully settle about 90% of our cases. However, if your spouse does not wish to settle, we often achieve exceptional results in litigation.
PKWA divorce lawyers have won two Court of Appeal cases, including one where the Court of Appeal awarded our client 75% of $13.6 million in matrimonial assets, up from 25%. The swing in matrimonial assets from 25% to 75% in favour of our client is arguably one of the highest in divorce history in Singapore.  The judgment was 60 pages long, and the Court of Appeal judges described the case as "complicated," "challenging" and "highly unusual."
In a case that was reported extensively in the Straits Times in October 2022, we successfully acted for the ex-wife in a divorce case where the ex-husband had "went all out to hide over $3 million" from her.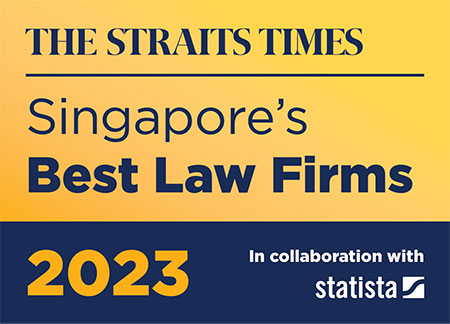 Fixed, clear & transparent fees
Uncontested Divorce
$1,290
No children, property or maintenance
$1,990
With children, property and maintenance
Contested Divorce
Pricing varies. Please get in touch to discuss your situation.
PKWA Law has over 30 years of history, and with more than 100 employees. We are an established family law firm.
Our fees are fixed and affordable from the outset so that you can have peace of mind.
Excellent reviews and testimonials from numerous clients across numerous independent platforms.
Our lawyers are recognized as leading family lawyers by the Straits Times, and other leading publications.
PKWA Law is trusted by leading corporations such as DBS, OCBC, UOB, Maybank, HSBC, Citibank, and CPF Board.
Free first consultation so you can make an informed decision on whether to proceed with your family law matter.
PKWA divorce lawyers have won two Court of Appeal divorce cases, including one where the ex-husband won 75% of $13.6 million in matrimonial assets, up from 25%. This is one of the largest swings in appeal history.
Featured news
Latest divorce case success story
PKWA Law successfully acts for ex-wife in case where ex-husband "went all out to hide over $3 million" from her
Frequently asked questions
Will I be eligible to file for divorce?
What are the potential grounds for divorce?
What is the cost of divorce?
What is an uncontested divorce?
Can I get a divorce even if my spouse refuses?
How long does it take to get divorced in Singapore?
Meet some of our divorce lawyers
Client testimonials
Christopher Twiss
In my hour of need, I was recommended to PKWA. Dorothy Tan LISTENED to my case and worked tirelessly over the holidays and weekends to meet impossible deadlines. A very upsetting and stressful time, but I will be forever grateful as Dorothy believed in my case and sought a fair and just resolution against insurmountable odds. At every juncture, Dorothy provided realistic, honest assessments and I proceeded based on her recommendations. If Dorothy and her team decide to champion your cause, you should consider yourself very fortunate.
Jing Lou
Words cannot express my thanks to PKWA and to Ms. Charlene Nah and Mr. Jason Mak for their kind help. My divorce case went through mediation, district court hearing and then appeal hearing. It went on for more than two years and to make the matters even more complicated, I am doing this from overseas. Charlene and Jason are there with me every step of the way, providing their professional service and also some personal touch to make the case easier for me emotionally. They are very experienced with Singapore Family Law and always have my best interest at heart. At the latter part of the district hearing and appeal hearing, I was struggling with legal fees, because the case went on much longer than I expected, due to my ex-husband's stubbornness. Charlene went out of her way to help me cope with the difficulties, even encouraged and helped me to represent myself at appeal court. The outcome is very favorable and there's no way I would be able to accomplish that without Charlene and Jason's kind help. Divorce is unfortunate and difficult in its nature, and you'd need your lawyers to have your best interest at heart at all times to overcome the difficulties. PWKA is such a law firm you can fully trust. I can't thank them enough.
Kinloong Ng
My personal experience with PKWA Law is definitely exceptionally excellent. The lawyers & legal executive really gave me genuinely good advice in resolving my case to the best outcome. My case was expediently & pragmatically resolved. I am very contented for entrusting PKWA Law with my matter. I sincerely thank you dear Sheila, Firdaus & Jin Liang for your guidance & professionalism. It is unquestionably because of you all that PKWA build up to be such a successful & reputable legal firm.
Brenda Chan
PKWA has been very professional and prompt in their service, and I want to specially commend Ms Jessica Chow and Ms Corinne Wee.
Clara Tan
I have engaged PKWA for my divorce proceedings after doing some research and I have made the right choice. My case was assigned to their lawyer, Derek Choo and legal manager, Firdaus. Derek is very thoughtful and efficient; he has explained my rights over the matrimonial home and assets. He has provided valuable guidance during mediation session. He even followed up my case and called during his reservist to discuss. Firdaus is very responsive and followed up timely in administrative works. He even helped to deliver the legal paper personally to my ex-spouse after the 1st attempt failed. Both gentlemen have gone above and beyond the call of duty to ensure things are on track. I am very satisfied with the outcome of the final judgement. Highly recommended PKWA for their excellent service.
Mongkol Kittiratanasakul
My mother and I would like to thank PKWA Law Practice for the excellent service that they have provided for us through my mother's divorce case. They were very diligent and professional about their work and listened to everything my mother said. We would also like to thank Helen especially, Sheila, Mr Low Jin Liang and his team for their timely replies to our last-minute emails, maximum efficiency and their genuine care and concern for us, clients.
Richard Lim
I am a housing agent with Propnex Realty Pte Ltd. I want to compliment Ms Jessica Chow from PKWA Law. She was firm and steady in handling the divorce case involving my client. We would like to see more of this type of lawyer assisting in divorce cases. Thumps Up.
Segaran Ramalingam
I was in a difficult phase in my life. Jessica, Corinne and the team assured me there was a way out. I am very glad that the situation is over now. Thank you so much, I really appreciate all your hard work put in and taking your time to explain to me how the process works. I would definitely recommend PKWA.
Wendy Teo
Dorothy and team are true partners. When I first met with Dorothy, it was her empathy and professionalism that gained my trust and confidence to engage her service. Throughout the process, she and her team worked relentlessly to help me, explaining in detail the questions that I had and provided sound advice on my possible options and the potential outcome. I am very grateful for them, as they genuinely care and are there to listen; and what's more, they are very competent, professional and approachable.
Siew Yin
During the past 6 months of this CB period, I went through lots of stress and fear for my case. Fwah Mingli listened and guided me with patience and sympathy, with help from Jessica Chow and Ms Corinne. Although they are very busy most of the time, but always responded my enquiry promptly. Today it's finally over. I feel relief and look forward to a new life. Thank you PKWA!
Louis Goh
I engaged PKWA for my contested divorce both before and after the 3-year mark and had no regrets doing so. Their fees were transparent, which made financial planning a lot easier. I would like to especially thank Ms Charlene Nah and Mr Jason Mak for their extraordinary help during that trying period of time. Despite the circumstances, I felt that Ms Charlene was genuinely trying to help. I would definitely turn to them in future for legal advice.
Samantha Lim
Jason Mak and Charlene Nah have both been most patient and professional throughout the entire process. I could totally trust them and had the emotional support I needed to get issues sorted out, especially also going through this difficult COVID/retrenchment period. Thank you, Jason and Charlene, for being there with me, providing me with better options and directions in riding through my divorce proceedings.
Doreen T
I would like to thank our Lawyer, Ms Jessica Chow and Legal Manager, Ms Corinne Wee for their assistance in my parents' divorce. Their advice to go for uncontested divorce settlement is greatly appreciated as we are also concerned on the legal fees if to proceed for contested divorce. Whole process is considered speedy and prompt updates were given too.Once again, on behalf of my mom, we would like to thank Ms Jessica Chow and Ms Corrine Wee for their valued advice and arrangement, thanks!
Henry Lee
I am glad that I have made the right decision to engage PKWA in my divorce matters. They have acted fast, efficient and professional in their capacity and PKWA is transparent in the fees too. I would like to thank Miss Christina, Miss Charlene and Mr.Yong for their help in expediting the whole process.
Yan Lim
1st meeting was with Ms Jessica Chow. Decided to settle with PKWA Law after going to several law firms to check with my uncontested but complicated divorce case. PKWA Law was very assuring and confident in my case. Especially thankful to Ms Corinne for assisting me throughout my case and everything was a breeze. Case got settled within a year and got my Final Judgement promptly. Ms Corinne is very professional and friendly as well. Highly recommended!
Winnie Tan
Engaged Ms. Jessica Chow for my uncontested divorce and I would like to comment her assistant, Jason, for being efficient in a swift manner. Thank you both for helping me to complete this tough period, it means alot to me.
Winston Tan
The free consultation went smooth and proceeded to engage the firm to handle my divorce. Overall, I am very satisfied with the service provided by the team (Jessica/Corrine) whom have handled my professionally.
David Chiu
Working overseas, it was not easy to balance the time-consuming, emotionally-draining, financial stresses and uncertainties of divorce in Singapore. PKWA Law understood my situation and did exceptionally well to communicate clearly, through email, for me to make balanced and legally-advised choices. They listened and interpreted, filtered out things that would not be helpful for the situation, avoided traps & skillfully maneuvered the path, gave assurances and communicated next steps and gave me likely outcomes that I would have had to consider to make the best decisions. PKWA managed to help me close at Mediation 1 without having to go further to Mediation 2 and the Litigation stages for which I am sincerely thankful.
Keline Ong
I was glad to have chosen PKWA Law to represent me in my divorce case. Mr Low Jin Liang gave me a clear overview in the initial meetup and constantly ensure that I have complete understanding at every milestone of the case. His advice is always putting my best interest first which is very important for my case. Also, special thanks given to Mr Jason Mak who has been constantly following up on my case promptly and providing insights on miscellaneous matters.
Tony Tang
Divorce is the most difficult path in my life; it was so scary and full of uncertainties. Initially, I was very upset and lost my mind becoming so stressful but you have given me the right direction and made that journey much easier to bear. You are such a diligent, responsive and caring lawyer; you have shown your professional works and handled my case successfully. I just want to express my deepest thanks for everything. I am appreciative to you and your team who have finally relieved me of all those months of stress
Bjorn Vang Jansen
PKWA Law represented me in my recent divorce, which was eventually resolved amicably and satisfactorily. Dorothy Tan and her team were a tremendous support throughout this stressful process. I have no hesitation in recommending PKWA Law and Dorothy to anyone looking for competent, knowledgeable, sympathetic, and efficient representation!
Janson Chee
I want to thank PKWA Family Law for their guidance & patience while helping me through the divorce process. They made things go easier and their thoughtful guidance and professionalism is appreciated.
David Heaselden
Derek Choo and his team provided a first class service, their attention to detail was second to none and they responded to all queries in a very timely manner. I have no hesitation in recommending their services.
Our awards and accolades