"The firm packages most of its legal services with an all-inclusive fixed fee that is affordable for all."
The Straits Times
What is a deputyship application?
If a person did not make a Lasting Power of Attorney (LPA) and lost mental capacity, family members may apply to the Family Court under the Mental Capacity Court to appoint a "Deputy" to represent and to manage the person's personal welfare and/or property and affairs.  There are many documents required and it usually takes several months for the court to issue the Deputyship order. 
A deputy is thus an individual appointed by the Family Court under the Mental Capacity Act to make decisions on behalf of a person who lacks mental capacity. A deputy is typically a family member.
What is considered to be a loss of mental capacity?
A doctor has to certify that the person lacks mental capacity due to an impairment of the brain. The law indicates that a person has a lack of mental capacity when they cannot:
understand the information relevant to the decision;
retain that information;
use or weigh that information as part of the process of making the decision; or
communicate their decision (whether by talking, using sign language or any other means).
Specialists in deputyship applications
PKWA family lawyers act for families who wish to apply for a deputyship order.  Our family lawyers are consistently named as leading Singapore lawyers by the Straits Times, Benchmark Litigation, Asian Legal Business, Singapore Business Review and Doyle's Guide. Our firm has more than 100 employees and 30 years of history. Our clients include all the major banks such as DBS, UOB, OCBC and Maybank. We are a safe and trusted choice.
Our fees are fixed, clear and transparent from the outset.  We offer a free initial consultation to understand your situation.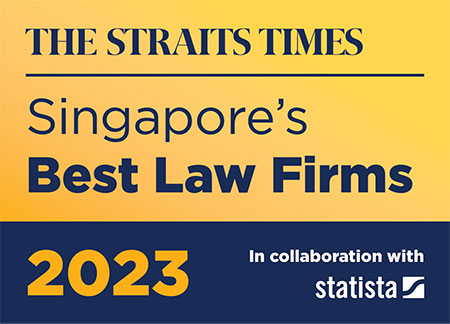 Fixed, clear & transparent fees
Deputyship
Simplified (iFAMS)
$2,990
We are here to help
Should you need further help, please get in touch to discuss your situation.
PKWA Law has over 30 years of history, and with more than 100 employees. We are an established family law firm.
Our fees are fixed and affordable from the outset so that you can have peace of mind.
Excellent reviews and testimonials from numerous clients across numerous independent platforms.
Our lawyers are recognized as leading family lawyers by the Straits Times, and other leading publications.
PKWA Law is trusted by leading corporations such as DBS, OCBC, UOB, Maybank, HSBC, Citibank, and CPF Board.
Free first consultation so you can make an informed decision on whether to proceed with your family law matter.
Featured news
Award winning Law Firm
PKWA Law named as one of Singapore's Best Family Law Firms in the Straits Times annual survey 2023
Meet some of our deputyship lawyers
Client testimonials
Lydia Lim
My family and I are stoked that PKWA Family Law has helped us so much in the matter where MCA is concerned, we struggled with our previous lawyer who was not only sloppy in their work but defensive. A lot of time was wasted while the case was developing. When we switched to PKWA, we were wowed by the efficiency and responsiveness of all legal personnel involved in our matters. We saw the light at the end of the tunnel just within a timeframe of fewer than 2 months. Everything was swift and precise. Thank you, Charlene, Christina for the hard work.
Our awards and accolades