"The firm packages most of its legal services with an all-inclusive fixed fee that is affordable for all."
The Straits Times
About us
PKWA family and estate lawyers are consistently named as leading Singapore lawyers by the Straits Times, Benchmark Litigation, Asian Legal Business, Singapore Business Review and Doyle's Guide. Our firm has more than 130 employees and 30 years of history.
Our fees are fixed, clear and transparent from the outset, and we are happy to offer a free initial consultation.
Wills, Trusts, Estate & Probate Lawyer
Have you planned for your family's future?
Our family lawyers and estate planners can help you to draft your Will, create a Trust to protect your assets, and draft your Lasting Power of Attorney (LPA).
If you plan ahead, you avoid disputes among your family members and save on future legal costs. You need a highly respected law firm that has the knowledge and extensive experience to give you the peace of mind you need.
PKWA family lawyers can help you – we understand that estate planning is vital for everyone, young or old, and the time is now to plan ahead.
Our full range of Wills & Estate services
Your last Will and Testament
 A will is a legal document that lets you decide what happens to your money, property, and assets after you die.  In your Will, you decide:
How your assets will be distributed to the people you choose.
Who you want to look after your children.
Who should carry out your wishes (the Executor).
Deputyship application under Mental Capacity Act
A Deputyship application becomes necessary when a family member is no longer able to manage their own affairs due to mental incapacity.
Trusts
A trust is a legal framework in which you (the settlor) give a trusted person (the trustee) the right to hold title to property or assets for the benefit of others (the beneficiaries).
Estate Planning
Estate planning is the process of planning on how one's estate will be distributed and managed after their death.
Grant of Probate and Letter of Administration lawyers
When someone in the family passes away, your family needs to apply for a Grant of Probate (if there is a Will) or Letters of Administration (where there is no Will).  This is to enable the executor to unlock the assets, manage the assets and distribute them to the beneficiaries.  
Resealing of Probate by a foreign executor
Resealing of Probate Resealing of Grant of Probate/Letters of Administration is the process of obtaining the subsequent authorization by a Court of a second country after the Grant has been obtained in the Court of the first country.
Contact us
We provide legal advice and support in all areas of estate law. Please get in touch to discuss your requirements.
Our practice areas include: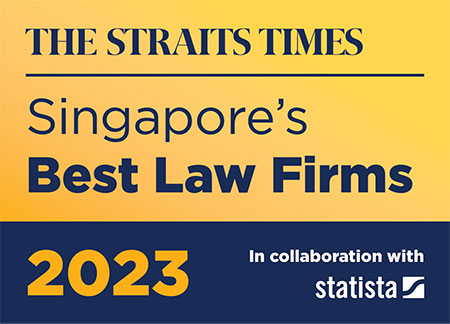 Fixed, clear & transparent fees
Pricing varies
Please get in touch with us for an assessment.
PKWA Law has over 30 years of history, and with more than 100 employees. We are an established family law firm.
Our fees are fixed and affordable from the outset so that you can have peace of mind.
Excellent reviews and testimonials from numerous clients across numerous independent platforms.
Our lawyers are recognized as leading family lawyers by the Straits Times, and other leading publications.
PKWA Law is trusted by leading corporations such as DBS, OCBC, UOB, Maybank, HSBC, Citibank, and CPF Board.
Free first consultation so you can make an informed decision on whether to proceed with your family law matter.
Featured news
Award winning Law Firm
PKWA Law named as one of Singapore's Best Family Law Firms in the Straits Times annual survey 2023
Meet some of our estate law lawyers
Client testimonials
SW
I find PKWA very professional in their approach. Reception was efficient and polite. Few days ago, Jane Ng attended to us and she accorded 15 mins of her time to attend to my mother to clarify and explain again some points of mother's Will which she made a few years ago. I wanted to pay but she firmly declined. Jane was also very patient. Kudos to PKWA!
Eddie Tan
I needed to obtain a Grant of Probate to execute my late mother's will and was at a loss of what to do. Christina Lim guided me and explained to me clearly what to do and the expected time frame of the whole procedure. She even guided me of the process after I have obtained the Grant of Probate. The most important point is that I never have to wait for her at the appointed time for the several meetings I have with her. The appointed time slot is always on the dot.
Esther Tan
Prior to engaging the PKWA law firm, the law firm provided free consultation. During the free consultation, they explained to me what is Grant of Probate and the processes very clearly and professionally without any rush. Answered all my queries and provided good advice too. I than decided to engage PKWA law firm to apply for Grant of Probate. The fees quoted was clearly explained and the fees was reasonable without any hidden costs. The law firm kept updating me with the progress with the Courts. The progress was very smooth and PKWA Family Law got my Grant of Probate from the Courts within a short time. My appreciation and thanks to PKWA Family Law for their good advice, good value, reasonable fees and professional services.
Mong See Kim
Very professional. Impressed with its responsiveness with respect to knowledges and services. Sincerity to serve and guidance given were promising especially Miss Jane Ng. Not a single minute had been wasted throughout the course of Letter of Administration application. Thanks to everyone in PKWA.
Anna Hoong
I found PKWA through the website and I was referred to Jane. Jane handled my case to prepare the Grant of letters of administration and everything is done about a month or so. Very impressive.
Charlotte Ng
My application for Grant of Probate was attended to by Legal Manager, Christina Lim. Christina addressed my questions and concerns professionally and with great patience. The entire process was handled smoothly and expeditiously. It was a far cry from my previous experience with an application of this nature. Well done PKWA!
Kathleen Agnes Stella Paton
I met with Christina Lim to get a Probate & Will done. Everything was smooth and fast. Christina was nice and advised me on what steps to take after the Probate was settled. Thank you so much for your services.
Janet Ho
I have engaged them previously for my apartment purchase. After which, I sought their advice on Letter of Admin. Very knowledgeable and professional in their guidance. I am very happy with Jane Ng's services rendered thus far. Looking forward to ask her for other legal services such as Will & LPA.
Aries Ying
Engaged them for the letter of probate. Efficient in getting the matters done. Followed up with me when I overlooked the email. Tks Christina & Team!
Phoebe Chow
While, it is possible to save some $ without engaging a law firm to obtain Grant of Probate/Administration letters, it is definitely well-worth to engage PKWA. Particularly, Thanks to Jane Ng for your patience & professionalism in assisting us expeditiously. Jane is upfront about the charges (no hidden costs) & guided us step by step. Obtained the Grant of Admin. letter within 1 month
Lydia Lim
My family and I are stoked that PKWA Family Law has helped us so much in the matter where MCA is concerned, we struggled with our previous lawyer who was not only sloppy in their work but defensive. A lot of time was wasted while the case was developing. When we switched to PKWA, we were wowed by the efficiency and responsiveness of all legal personnel involved in our matters. We saw the light at the end of the tunnel just within a timeframe of fewer than 2 months. Everything was swift and precise. Thank you, Charlene, Christina for the hard work.
Jerome Jr
Thank you so much for the services rendered. I truly appreciate your time, help and kind patience. Christina Low is very efficient at her practice and is a pleasant, helpful person. I shall push your firm forward to anyone seeking legal services. Again, thank you.
Zan NA
The professionalism and help rendered by the firm was beyond words. I had some difficulties during the period of sales of my property, due to the passing of my mother. The team guided me and did most of the work to meet the required timeline. In fact, they completed much earlier, hence helping me avoid unnecessary ad hocs. Definitely thankful for their hardwork and dedication. No regrets on my end. Great work PKWA Law Practice!
KS Tan
Christina has been very helpful and detailed throughout the process of applying for the Letter of Administration. She kept me updated on every stage of the application.
David Lim
The whole process of getting grant of probate was conducted in a professional manner.
Vincent Loo
I have engaged PKWA services on a Grant of Probate recently. This is the second time that I have worked with PKWA on legal matters. PKWA staff have been very professional and efficient in handling my legal matters. Special thanks to Christina Lim and Charlene Nah for their follow-up on the matter. They kept me updated regularly on the progress and settled issues expeditiously. PWKA would be my preferred choice if I require assistance in legal matters in future. I would highly recommend their services to those who need assistance in legal matters.
Jia Min
Thank you PKWA Law for helping us to get the Letters of Administration when my mother passed on without a Will. Ms. Lim was very professional, efficient and approachable. We had some questions in the process and Ms Lim was always very patient and informative in the advice she gave. The price was transparent and instructions on what should be done on our part were simple and clear. The duration of acquiring the Letters of Administration was kept to the minimum. We are really grateful to PKWA Law for their services. Thank you.
Desmond Tan
PKWA gave professional advice. They advised us to check properly my deceased dad's documents to ensure nothing is missed out before submission and applying for administration. We did according to their advice and got it sorted out quickly.
Teo Lay Heong Jennifer
The service was good and prompt. Muhd Firdaus dealt with the grant of probate professionally and the fees quoted was fair and the procedure was transparent. Thank you.
Steve Liow
Thank you very much for helping us acquire the Grant of Probate for our late cousin's estate. We appreciate the professionalism and the clear explanation before engaging PKWA Law Practice and after obtaining the Probate. She is careful, gentle and clear in addressing our issues and of course a great help in advising us on the setting up of the estate account. PKWA is indeed a very professional, friendly and affordable law firm.
Margaret Wee
We would like to thank Ms Christina Lim for helping us get Letters of Administration when our mum passed on without a will. She is friendly, professional and efficient at each step explaining very clearly what to do and what documents are needed. The whole process took only about five weeks.
Pek Patrick
When my late wife passed away without a will, I went to PKWA and was assigned to MS Jane Ng. She guided me on the process and stated the documents needed; the Grant of letters of Administration was given today. The various institutions responded fast except one insurance company, MS Jane had the initiative to write a reminder letter to them. She is efficient and provides excellent service.
Yeo Peck Koon
My family engaged PKWA for the Grant of Letters of Administration. We are lucky to have Ms Christina Lim who is precise and always update us the status. Clear upfront fees. We are satisfied with the service rendered. Thank You.
Adeline SM Lim
Fast, efficient & reasonably priced in getting Grant of Administrator. Christina provided lots of advises, constantly updating me of the status & progress of the application. Fuss-Free & Reliable.
Kok Hoong Yeow
I would like to express my appreciation to PKWA Law for their competent and professional handling of the grant of probate relating to my mother's estate. The entire process was so expediently carried out and in record time with PKWA Law advising me of the steps along the way. Never had I expected to receive the probate within three weeks of application when I was informed by two other law firms that it would have to take between 4 – 6 months. Kudos to PKWA. The experience with them is excellent.
Ted Chen
Switched to PKWA for Grant of Probate and property conveyance services. Clear Upfront fees. Quick, efficient, always kept me updated on the progress. Lawyer and solicitors are helpful and engaging. I am very satisfied with their services and would highly recommend them to my friends as well.
Clamond Tan
I would like to thank Ms. Christina Lim of PKWA, in obtaining my Letters of Administration. Fast and reliable service. Their fees are most reasonable. Highly recommended.
Chin Peggy
I did my dad's Letter of Administration via PKWA Law Practice. Jane from PKWA was very patient and professional in providing good and sound advice to a layperson and out of expectation, we obtain the LOA within a short span of time – within a month. We will definitely recommend their service.
Wan Fook Loh
I would like to thank Ms Christina Lim for her services in getting me the Grant of Probate as per a stated time frame. She is a friendly and efficient staff and always has the answers to my questions. She also advised me in details on what to do after i have obtained the Grant of Probate. Well done Christina and keep up the good work.
Lois Tan
My appreciation to Ms Christina Lim of PKWA in my application for Grant of Probate. She is friendly, professional and patient in answering all my queries.
Alice Ho
I am very impressed by Jane's professionalism and efficiency, her good and detailed explanation and super fast service in obtaining the Grant of Probate. My sincere thanks and appreciation to Jane. Highly recommended PKWA Law's excellent service.
WF Kong
I went to PKWA for the selling and buying of my house previously. This time, mum passed away and we needed to apply for a letter of administration. I called PKWA and was assigned Jane. She is fantastic and super efficient. She guided on the documents to bring to see her. A simple list. After the initial meetup (2weeks later), went to have oath taken. And 2weeks, letter of administration was ready. Super fast! I thank Jane for the excellent service and professionalism. She then advised on the next course of action of HDB area office, open an estate bank account etc. Wonderful! Thank you.
Jon Low
I would like to express my special thanks to PKWA Law in assisting me to obtain the letter of probate within a short period of time. They are very professional and efficient and always make you feel at ease by providing good advice for a good understanding. The whole process was seamless and quick without any thought of pressure. Keep up the good work!
Khairul Jamil
I would like to express my appreciation to PKWA Law Practice for their efficiency and providing professional service in relation to getting the Grant Letter of Administration. It was a hassle free process and the cost was reasonable. The duration of getting hold of the Grant Letter of Administration was short too. I would highly recommend PKWA Law Practice LLC to everyone.
Albert Lee
I would like to express my appreciation to Mr. Lim Chong Boon on behalf of the late Mr & Mrs. Chua's family for offering service to us. And also a big thank you to the team Ms. Charlene Nah, Ms. Christina Lim, Mr. Tan Jack Long and Ms. Alice Wong for their time, professional services and effort. The team is prompt in their response and were very patient in getting the Grant Letters of Administration and the Legal Guardianship for my nephew and niece. The whole process was very smooth without any hiccup and hassle-free. I greatly appreciate having PKWA Law help us through the most difficult times. Thanks once again for your time and patience to handle our cases. We definitely will recommend PKWA Law firm to friends and families.
Siva
I am very grateful to your lawyer Ms. Christina Lim in assisting me smoothly to obtain letter of Administration within a short period of time. She is very professional, empathetic and always available for feedback.
Selene Shin
I would like to express my thanks and appreciation to PKWA Law for their professional services and prompt response in getting the Grant of Letters of Administration for my family. The whole process was smooth and the fees were reasonable. We will definitely approach PKWA Law for other services if need to. Highly recommended to engage them!
Wang Lily
I'm very grateful for the prompt service from PKWA Law. I have done the Letter of Probate without any hiccup. PKWA Law has provided good advice and things were done fast and efficiently.
YF Kng
Had my Letter of Administration done with PKWA Law and Jane. The whole process was professionally conducted, very efficient, very fast and at a very affordable rate. Would highly recommend anyone who wish to engage legal services to consider them.
Kee Sian Tan
I am impressed by the efficiency and speed of the staff in PKWA Law, in particular Ms Jane Ng. They know their work well and was able to give prompt and good advice on estate matters. Thank you.
Jonathan Chew
Kudos to Eileen Tan for arranging promptly without hassle documentation and procedures for my father's probate. She is very informed and straightforward so red tape was minimal. Thank you PKWA!
Helen Kwek
We are pleased that PKWA Law and Jane handled the Grant of probate very proficiently. It was speedily done within a month. Thank you to the members of staff in the office, too.
Fiona Zheng
Went to PKWA to apply for the letters of administration. Thank you PKWA Law and Ms. Christina Lim for working on my case, and the constant update on the process and status.
Belinda Chong
PKWA was introduced to me from a relative as I needed to obtain the Grant of Probate to execute my late father's will. I had no clue of how to proceed and thankfully with clear advice and directions from PKWA Law and manager Christina Lim, the whole process went well and duration was shorter than expected. On the day of collection of the Grant of Probate, PKWA Law went through again with me on how and what should be done on the second half of the procedures. Thank you once again and will highly recommend the service of PKWA Law.
Susan Loh
Mr Pan Wai Liong has been our lawyer for the past 20 years. Mr Pan had taken care of all the legal documents for the sales and purchases of our 4 properties over the years. Mr Pan is a professional lawyer that we can count upon to give sound and helpful advice before and after the purchase of our properties. He is very experienced in handing all the legal documentation of properties. 4 years ago, we consulted Mr Pan to do our Will and LPA. He is a very meticulous and detailed lawyer. He analyzed our needs, provided useful advice and crafted the wills to take care of our best interests. We would definitely engage his service again if we need any legal advice. We would also recommend his professional service to my children, relatives and friends!
Ming Xiang Tham
Engaged PKWA Law for Mental Capacity Act application. Once the medical report was obtained, the Court Order was received within 2-3 months. The process was communicated clearly and efficiently throughout. Recommended to engage services with them!
Myrna T
Both Executors are unanimous in our assessment that Firdaus made the whole process, simple and painless, with knowledgeable information and minimum demands on our time. No more coming down for repeated signing of affidavits, no more piecemeal requests for documentation, and most important the updates were frequent, and to the point. The probate process was completed in less than a month - quite miraculous by any standards. The whole experience has been a breadth of fresh air. We will have no hesitation in recommending PKWA and Firdaus in particular, to anyone seeking help with probate matters. And If the rest of your practice is as pleasant and efficient as this experience, we would gladly consider returning for our other legal needs. Congratulations on running a tight ship. And in particular our gratitude and appreciation to Firdaus.
Jon Jambu
I went to PKWA law practice when I was unable to withdraw my late mother's savings from the bank. After the first consultation, I was surprised to find out how easy it was and the process was also fast. Did not have to wait for months to be able to get it done. Thank you PKWA. Thank you Mr Firdaus.
Yuh Shing Tay
I had a very pleasant experience engaging Mohd Firdaus as my legal representative to apply my Grant of Probate. He is proactive and diligent in his follow up with the relevant institutions. And I managed to get my Grant successfully without any hassle in less than 2 months. I'm truly grateful and appreciate Firdaus' professionalism
Nursidah Malik
I am grateful for the prompt service of PKWA Law and Mr Muhammad Firdaus in granting me the Letter of Administration. Everything was swift and hassle-free. The first session (which was free) was very helpful because he informed me of all the documents I need to collate before I can proceed. The legal fee is also one of the most affordable ones in Singapore. Thank you for the great service!
MT
Firdaus has once again outperformed and secured the Grant of Probate in an unbelievable time frame. This despite the challenges of tracing the deceased's assets.
Leng
I had a very pleasant experience engaging PKWA Law as my legal representative to apply my Grant of Probate. PKWA Law's Firdaus is proactive and diligent in his follow up with the relevant institutions. And I managed to get my Grant successfully without any hassle in less than 2 months. I'm truly grateful and appreciate PKWA LAW'S professionalism.
Al-hanan Mohamad
Senior Legal Executive Firdaus has been an exceptional employee. If the quality of a firm's employees is an indication of future success, then PKWA has a very bright future. Thanks again Firdaus.
SA
The Probate team I was assigned to is reliable, provides excellent service and always on-the-ball. Got my letters of administration in about a month with no hiccups. Special mention to Mr Firdaus who never fails to address my emails and calls patiently and promptly. Mr Firdaus is a great asset to the firm. PKWA is definitely a recommended professional service firm, and I would highly engage the firm in future when the need arises. Thanks again!
Our awards and accolades